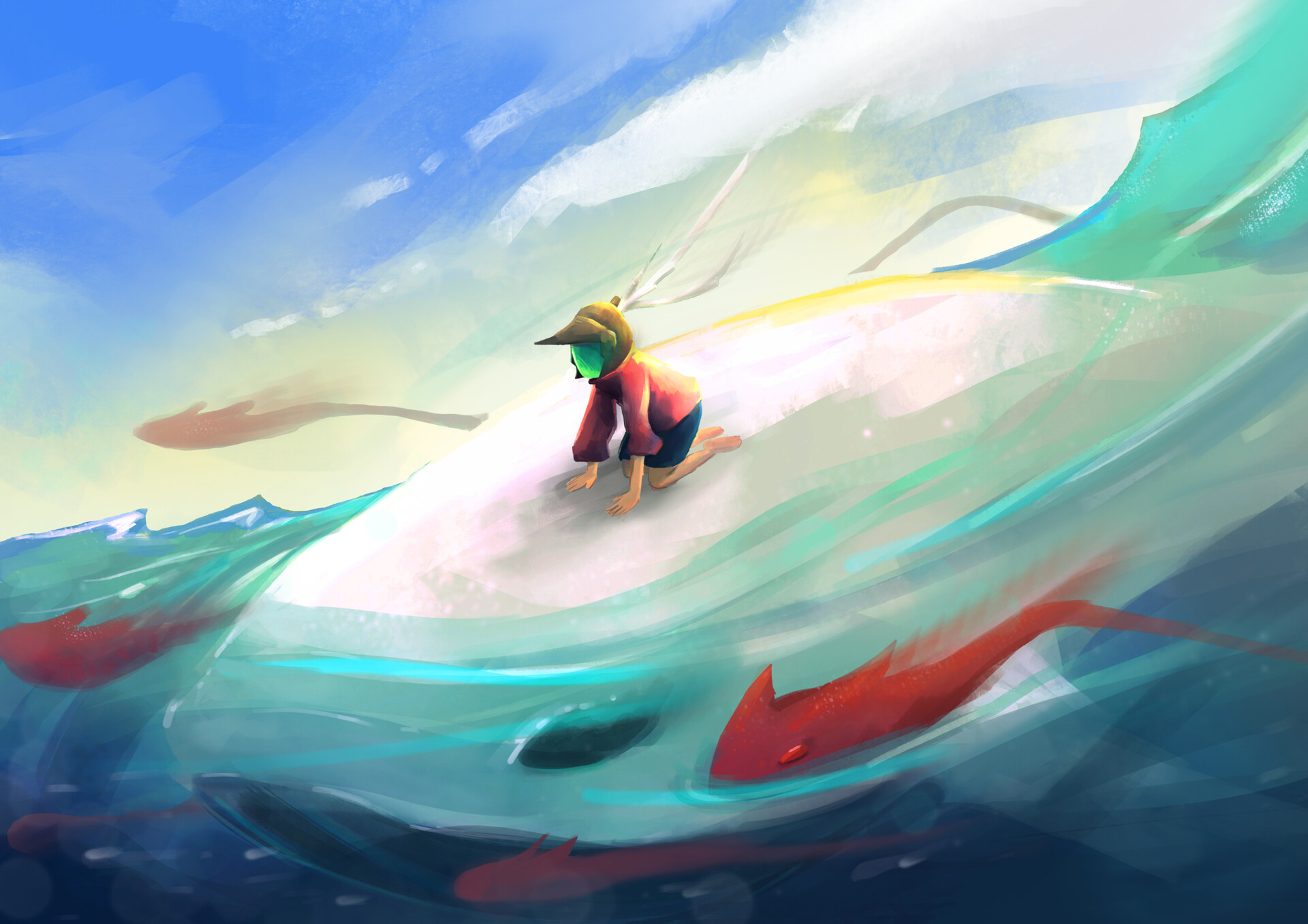 EXT. OUTSIDE ELLIOT'S HOUSE – DAY
10 years later.
The sun rises over the ridgeline. Light bathes the streets and buildings, cars drive down the avenues and people walk along the sidewalks. Elliot opens the exit door of his house.
ELLIOT
Bye mom!
Elliot walks toward the street. Sophia peeks through the doorway of the house.
SOPHIA
Elliot, can you stop by and pick up some food? My shift ends late tonight.
ELLIOT
Yes mom, I'll take care of it.
SOPHIA
Thank you, have a nice day.
Elliot nods and closes the exit gate.
EXT. STREET NEAR ELLIOT'S HOUSE – DAY
Elliot walks over and gives a big yawn, then, a bread roll flies through the air and lands directly in his mouth. Elliot reacts by chewing the bread.
ANNIE
Wake up!
The roar leads Elliot to choke on the piece of bread stuck in his throat.
ANNIE
How are you today, Elliot?
Annie greets Elliot with a smile and a wave of her hand. Elliot responds by pointing both hands to his throat, where the stuck piece of bread is clearly visible. Elliot's skin quickly turns blue.
ANNIE
Leave it to me.
Annie rolls up her shirt sleeves, stands behind Elliot and grabs him by the waist, then presses his stomach, using the strength of her arms. The squeeze causes Elliot to let go of the piece of bread through his mouth, the piece goes like a bolide forward and ends up stuck to the side of a bus driving down the street.
ELLIOT
There goes my breakfast.
ANNIE
I'm sorry, I'll treat you to a cereal bar, if you want.
Annie pulls a cereal bar from inside her backpack, hands it to Elliot, who devours it quickly, with rodent-like movements.
ELLIOT
I want more.
ANNIE
But I don't have any more.
ELLIOT
I want more.
ANNIE
I'm serious, I don't have any left, look, you can see for yourself.
Elliot sticks his head in Annie's backpack, moves from side to side like a piranha looking for a piece of meat, after a while he comes out of the backpack and sighs in frustration.
ANNIE
I told you.
ELLIOT
Okay, but you still owe me breakfast.
ANNIE
Okay, I'll see what I can do.
Elliot smiles contentedly and continues walking, Annie follows close behind, some cars pass by on the side of the road.
ANNIE
Tell me Elliot, why don't you have breakfast at home?
ELLIOT
Mmm, in a nutshell, because there was nothing to eat.
ANNIE
Nothing?
ELLIOT
Don't worry, it's nothing serious, it's just that mom has been working overtime at the hospital.
ANNIE
I really admire her, single mom and full time nurse. I wonder if I will be capable of it someday.
Elliot takes a deep breath as he walks, looks up at the sky.
ELLIOT
(V.O.) This is what my life has been like since I woke up, a normal life in this boring world. The worst thing is that I don't even remember my dreams anymore. What happened to Pen? Did I really meet her in my dreams or was it all an illusion? I don't think any of that matters now.
Looking to the side, Elliot is surprised not to find Annie standing next to him.
ELLIOT
Listen Annie… Annie?
The initial startle is followed by a series of sideways movements in search of Annie.
ANNIE
Elliot!
Elliot notices the sudden change in the air with a quick movement of his eyes. Annie's kick approaches at high speed, but Elliot manages to evade it with ease. Annie lands on the ground and turns nimbly, throws a fist strike and Elliot stops it with the palm of his hand.
ANNIE
You bastard! You never pay attention. Your reflexes are very good, though.
ELLIOT
Same to you.
ANNIE
What do you expect, it's not for nothing that I'm the school karate champion.
Two little birds fly past Elliot and Annie, Elliot looks up, fascinated by the movement of the birds in the sky.
ANNIE
Well, I guess that's just the way you are.
Annie watches Elliot with intrigue. Elliot follows the birds, with his eyes, to the branches of a tree.
FADE TO:
INT. CLASSROOM – DAY
About dreams.
Elliot observes two birds very similar to the previous ones, he watches them this time from the classroom window. The birds converse with each other and peck at each other's bodies, Elliot smiles at the sight of them, sitting next to Annie, who keeps taking down every word of the teacher talking at the blackboard.
TEACHER
R.E.M. sleep usually lasts between 5 to 15 minutes and is known as paradoxical sleep. Which is quite different from the concept of daydreaming, isn't it, Mr. Elliot?
Elliot hears his name and turns to the professor, surprised.
ANNIE
I told you so.
The professor rests his sinister gaze on Elliot.
TEACHER
Are you bored with today's class or do those birds have more to teach you?
ELLIOT
That's a difficult question to answer, sir.
Elliot's classmates burst out laughing, Annie lets out a low chuckle, but stops it when she hears the professor's reply.
TEACHER
Tell me something Elliot, how far do you think you will go with this attitude of not caring about anything?
ELLIOT
I don't know… anywhere?
TEACHER
Worst of all, it distracts Annie, our star pupil.
The professor approaches Annie and takes both of her hands.
TEACHER
I know you'll go far Annie, you just have to be careful not to waste your time with bums.
ANNIE
Don't worry sir, I'm fine.
Annie smiles uncomfortably. Elliot interrupts in a serious tone of voice.
ELLIOT
It's because of the waking state, sir.
TEACHER
Excuse me?
The professor releases Annie's hands and looks at Elliot.
ELLIOT
Although one is asleep, the electrochemical signals in the brain resemble those of an awake person, which is why R.E.M. sleep is called paradoxical sleep.
TEACHER
Ah… yes, that's right, Mr. Elliot.
ELLIOT
It is in this state that dreams occur.
(V.O.) "Although I no longer have any…"
TEACHER
Very true, but we'll talk about that next class.
The teacher returns to the blackboard, Annie smiles at Elliot, who returns to the birds at the window, but is interrupted by the class dismissal bell. The birds escape the noise by flying away into the sky.
CUT TO:
I/E. HALLWAYS AND OUTSIDE SCHOOL YARD – DAY
During recess.
Students leave the classrooms and fill the interior hallways.
The school's exterior doors open and the students walk out into the courtyard and are greeted by the warm rays of the sun in the early evening. A few people start movement on the soccer and basketball courts. Elliot and Annie walk along the side of the courts.
ANNIE
So you were really paying attention.
ELLIOT
I already knew what the professor was talking about.
ANNIE
I see, it's a topic that interests you.
ELLIOT
No, I'm not interested anymore.
Elliot sighs and looks up at the few clouds in the sky, Annie stares at Elliot's facial expression.
ANNIE
You did it again.
ELLIOT
What is it?
ANNIE
That melancholy look you get when you look at the sky.
ERIC
Elliot, Incoming!
The basketball goes through the air with speed, Elliot senses the movement and instinctively ducks his head to avoid the impact. The ball continues its trajectory and hits Annie squarely in the head.
ELLIOT
¿Annie?
ERIC (17) comes running up next to Elliot, they both look at Annie lying on the ground.
ELLIOT
Annie… she's dead.
ERIC
Dead? No way… Am I going to jail?
Elliot puts his hand to his chin and nods.
ELLIOT
Likely.
Suddenly, eyes engulfed in flames light up from the ground, a dark aura rises, causing terror in Elliot and Erick.
ANNIE
Eric! You… you wretch!
Annie leaps from the ground with feline movements and lunges at Eric, beating him savagely and kicking up the dust that completely surrounds them in the skirmish.
ELLIOT
Well, I'll leave you to it.
Annie's eyes, engulfed in flames, are now pointed toward Elliot.
ANNIE
Do you think I'll let you get away? Elliot!
ELLIOT
Oops.
ANNIE
You ducked on purpose, didn't you? Admit it!
ELLIOT
Wait Annie… Nooooo!
Annie throws herself wildly at Elliot.
CUT TO:
EXT. BASKETBALL COURT – DAY
Scrimmage at the competition.
Eric and Elliot make their way to the basketball court, they both have put on their sports uniforms, both have black eyes and have put paper plugs in their nostrils. The three teammates on the court are surprised to see them beaten.
ELLIOT
It hurts…
ERIC
It hurts a lot…
JOHNNY (17) approaches Elliot and Eric, in his hands he holds the basketball.
JOHNNY
What happened to you guys.
ELLIOT
I'm sorry Johnny, I've repressed it.
JOHNNY
Are you sure?
Eric takes the ball from Johnny's hands.
ERIC
I'm ready!
Eric exclaims and the plugs shoot out of his nose, his appearance returns to normal.
ELLIOT
Yessssss!
Elliot also screams and the plugs fly out of his nose, he has recovered. The basketball hits the ground hard, Eric hits once more and lunges forward with great speed, intending to dunk the ball into the hoop.
ERIC
Ultimate slam dunk smash!
Eric jumps with all his might, lifting the ball with his right hand as he pierces the air and with a quick whip forward motion hits the hoop with his empty hand…the ball has slipped out of his hand.
ELLIOT
Ultimate slam dunk, huh?
ERIC
Shut up Elliot, I assure you I'll make it someday.
Elliot stares at Eric without uttering a word. Eric stares at Elliot more intensely, Elliot responds with a similar stare. Eric intensifies the penetrating stare even more. Elliot lifts his shoulders in a quick movement and a disinterested expression, he is not interested…
ERIC
Elliot!
The altercation is interrupted by the physical education teacher's whistle.
TEACHER E.F.
Listen up tadpoles, today you will face the team from the next section.
Elliot, Eric, Johnny and the rest of the team are surprised by the news.
JOHNNY
But they… they play for real.
P.E. TEACHER
That's right, let's see if now they learn to take sports seriously.
ERIC
Don't worry professor, leave it to me, the star of the basketball team.
TRAVIS
The star, huh?
The team from the next section arrives on the basketball court. They are five tall, slender guys, all wearing professional basketball attire and a menacing look. TRAVIS (18), the leader of the group approaches Eric.
TRAVIS
Watch your mouth, kid.
Eric responds to the comment with a menacing look that clashes with Travis' menacing look.
The P.E. teacher blows the whistle loudly, starting the match. The ball is thrown into the air, Eric jumps with all his might, but fails to catch it before Travis does. Travis passes the ball quickly. Johnny gets in the way to stop the ball, but is blocked and pushed to the ground by one of Travis' team.
ERIC
Hey, that's foul play.
Eric looks at the professor with the intention of complaining, but finds him dozing on the benches.
ERIC
And then he wants us to take things seriously?
JOHNNY
Eric, wake up!
Eric looks back at the game. The ball comes rushing back to Travis, who leaps with great agility and ferociously drives the ball into the basket.
ELLIOT
So that's an ultimate slam dunk smash.
ERIC
Of course not!
Eric picks up the ball off the ground and bounces it as he moves forward with a confident attitude.
ERIC
Let's go team! This has just begun!
The rest of the teammates join in the battle cry, all except Elliot, who whistles and pretends to be indifferent.
To be continued…