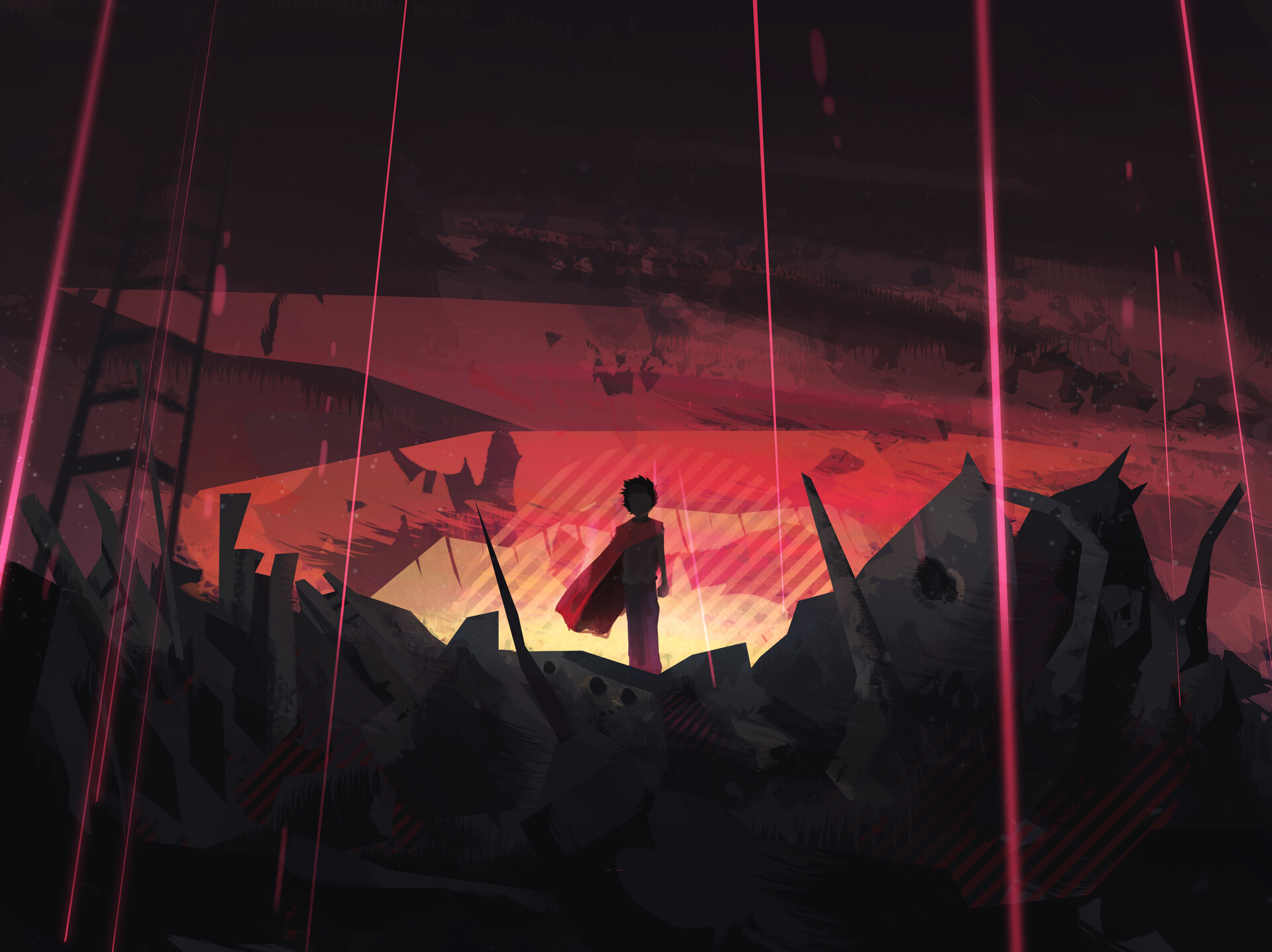 EXT. BASKETBALL COURT – DAY
30 minutes later…

The scoreboard shows the score (50 to 4) and there is only one minute left in the game. Eric's team members are lying on the floor, exhausted and confused.
JOHNNY
Mercy…
Travis' team members laugh as they watch Eric's team on the ground.
TRAVIS
That'll teach you not to talk too much, team star.
Eric listens, leaning against the hoop pillar, his back to the court. Elliot walks silently to the ball, under his team's hoop, with the intention of picking it up, when he arrives next to Eric, he notices that he is crying.
ERIC
Aren't I a failure, Elliot?
ELLIOT
(Surprised) Eric…
TRAVIS
But of course you're a failure, what did you expect?
Travis and the rest of the opposing team burst out laughing again.
TRAVIS
That's what happens to losers, they always end up losing.
ERIC
Are we losers?
Eric looks at Elliot between sobs.
ERIC
Elliot?
Eric stops completely when he sees the expression in Elliot's eyes, they are serious and cold eyes.
ELLIOT
School really can be a traumatic experience, don't you think, Eric?
Elliot reaches down to the basketball and lifts it off the floor with one hand. Travis notices this immediately. Elliot walks over to Eric, his back to Travis.
ELLIOT
Listen Eric, you are the most feisty person I've ever met in my life.
ERIC
Elliot…
ELLIOT
Let me show you what you mean to me.
The timer reads 30 seconds remaining. Elliot swiftly turns to Travis and slams the ball to the floor hard, drives his legs forward, straight to the opposite hoop. Travis is the first to get in his way.
TRAVIS
What do you think you're doing, kid!
Elliot feints to the right, but stops halfway and turns left in a move so fast that Travis fails to react.
TRAVIS
No way!
Elliot evades Travis and runs forward, now facing his next two enemies, he manages to pass between them quickly. One more step forward and he is already on the edge of the opponent's area. RIVAL PLAYER (18) gets in his way, Elliot feints to shoot from outside the box.
TRAVIS
He's going to shoot a three-pointer!
Travis runs in pursuit of Elliot. Rival player jumps hard to block Elliot at the lane line. Elliot fakes again and keeps moving toward the hoop.
RIVAL PLAYER
(Surprised) A feint!
Elliot is already under the hoop, but is greeted by GIANT RIVAL (18), the biggest and tallest of Travis' team.
GIANT RIVAL
You will not score!
Elliot jumps next to his opponent, they both at the same time. The giant opponent's extended arms completely cover the space to the hoop.
ERIC
Impossible, there is no way to shoot.
Elliot inhales a lot of air with his mouth, a small silver flame appears in the pupil of his eyes, a spark that distracts and surprises the giant rival. Elliot presses the ball between the fingers of his left hand, spinning in the air and throwing the ball over the side of the giant rival's body. The ball arcs at high speed, hitting the backboard and into the hoop.
Travis and his teammates, Eric and the others are stunned by Elliot's score. The stopwatch stops, time has run out, however, because of the shock, the sports teacher does not blow the whistle, instead he stares at it dumbfounded. Realizing the end of time, the teacher picks up the whistle, which slips out of his hands a couple of times before he can hold it, then blows it, producing a faint, choppy whistle.
TEACHER P.E.
(voice cracking) End… end of the game!
None of the players on the court move. Travis walks over to Elliot, who has not moved from the opposing hoop and is still breathing heavily.
TRAVIS
Hey, tell me your name.
ELLIOT
Elliot.
TRAVIS
Elliot, huh? I'll remember that.
Travis walks away from Elliot and, along with the rest of the opposing team, they leave the court in silence. Eric and the rest of the team approach Elliot.
JOHNNY
(Excited) That was amazing!
Elliot responds smiling, gets distracted and misses Eric's flying kick that connects directly to his body, launching him away.
JOHNNY
Eric, what are you doing!
ERIC
You mean you could have done that all along and decided to wait for us to get our asses kicked!!!?
Elliot gets up from the floor, dizzy after Eric's attack.
ELLIOT
I'm sorry Eric, it's just that these things make me lazy.
ERIC
You slacker! From now on we'll train with greater energy, do you hear me? We'll win next time, that's the order from the star of the team!
TEAM MEMBERS
Yes!
JOHNNY
Eric…
ERIC
What is it?
Johnny points to the floor, where Elliot crawls away from the scene. Noticing that he is being watched, Elliot gets up and starts running at full speed.
ERIC
Stop him!
Eric and the others start running after Elliot, chasing him toward the exit of the court. While this is happening, Travis' team is walking around the outside of the court.
GIANT RIVAL
I tell you, his eyes had a strange gleam in them.
RIVAL PLAYER
Come on, don't make excuses.
Travis watches Elliot running away from Eric in intrigue.
CUT TO:
EXT. STREET OUTSIDE MINIMARKET – DAY
The sun slowly descends towards the horizon, painting the sky in shades of orange, reflected in the glass of the automatic doors that open in unison. Elliot emerges from the minimarket holding a paper bag full of groceries.
ELLIOT
(V.O.) Mom must have given me some shopping list. Well, I don't blame her, she's been too busy with her shifts at the hospital.
The sound of a guitar strumming stops Elliot's movement. After a small space of silence, the guitar sounds again, playing a melody that Elliot recognizes (it is the same melody Elliot played to Pen, ESC. 3). The people on the sidewalk continue to walk around while Elliot is transfixed by the sound.
ELLIOT
That melody… it can't be.
Elliot looks around in search of the origin of the sound, manages to pinpoint its location at the bottom of a nearby passage, where he also finds a person with her face covered by a hood, holding a guitar in her hands, playing with great skill. Elliot enters the passage and walks towards HILDA (18), without noticing the shadows that follow him and watch from the walls. Hilda stops playing the guitar.
ELLIOT
That tune – where did you learn it?
HILDA
It was taught to me by the same person who taught it to you, Elliot.
ELLIOT
You know my name.
HILDA
I know a lot about you, Elliot. You were in a coma for two years, weren't you?
ELLIOT
That's no secret.
HILDA
You're right, but how about this; I also know where you were during all that time.
Elliot can't hide his surprise.
ELLIOT
(Evading) I wasn't anywhere.
HILDA
Come on, don't be like that. Listen Elliot, I want to help you, it's because I'm Pen's friend that I want to, do you understand me now?
ELLIOT
(Surprised) How do you know about Pen? Do you really know her?
Hilda smiles and puts the guitar aside, leaning against the wall of the passage.
HILDA
Yes, I know her. She is my friend.
Elliot watches Hilda, suspicious.
ELLIOT
(V.O.) Does she really know Pen?
HILDA
Tell me, do you want to see her? I have to tell you, you really made a big impression on her, she kept talking about the adventures she had with you.
ELLIOT
Are you serious?
Hilda removes her hood, revealing her long purple hair and smiling face.
HILDA
I'll introduce myself, my name is Hilda, nice to meet you, Elliot.
Hilda reaches out her hand in a friendly manner, along with an innocent smile. Elliot smiles back and takes Hilda's hand.
CUT TO:
INT. ELLIOT'S HOUSE – NIGHT
The initiation ritual.
Elliot turns the doorknob to open the door and enters the house with Hilda. He then turns on the main light and leaves the bag of merchandise on the counter.
HILDA
We can do it in the living room.
ELLIOT
Okay, what do you need?
HILDA
A glass of water.
Elliot nods and takes a glass from the shelf, fills it with water from the dishwasher faucet and positions it in the center of the living room table. Hilda puts the guitar down on one of the chairs and sits on the next one, Elliot sits across from Hilda.
HILDA
Okay, give me your hands.
ELLIOT
Wait Hilda, you said earlier that you learned that tune from the same person who taught it to me. What did you mean by that?
HILDA
You know what I meant.
Elliot stops and looks away.
HILDA
Listen Elliot, everything will be clearer when you can return to the arpex.
ELLIOT
Arpex?
HILDA
It is the space of infinite creation, some call it the dream realm.
ELLIOT
I think there's a lot I don't know.
HILDA
Let's change that, shall we start?
Elliot stretches out his hands and reaches for Hilda's, she grasps him firmly.
HILDA
Listen Elliot, whatever happens, don't take your eyes off the glass of water, I'll do the rest.
ELLIOT
I am ready.
Elliot fixes his gaze on the glass of water. Hilda closes her eyes and concentrates, a sepulchral silence takes over the space inside the house. With his eyes still fixed on the glass of water, Elliot hears a faint intermittent sound, like the distant beating of a drum coming closer and closer, closer and closer. Suddenly, the surface of the water inside the glass reacts to the sound that grows louder and louder in intensity. The ripples in the water also intensify.
ELLIOT
(V.O.) What's that sound? Is it real or am I imagining it… wait, this sound is…
The sound can be heard clearly, they are heartbeats, with each pulsation the water moves. Elliot's heart now beats in synchronization with these pulsations. A strange heaviness takes over Elliot's body, his eyes feel heavy, they blink slower and slower, more and more tired.
ELLIOT
Sleep? I'm falling asleep, I don't think I can avoid….
Elliot closes his eyes for the last time and then all is darkness.
To be continued…