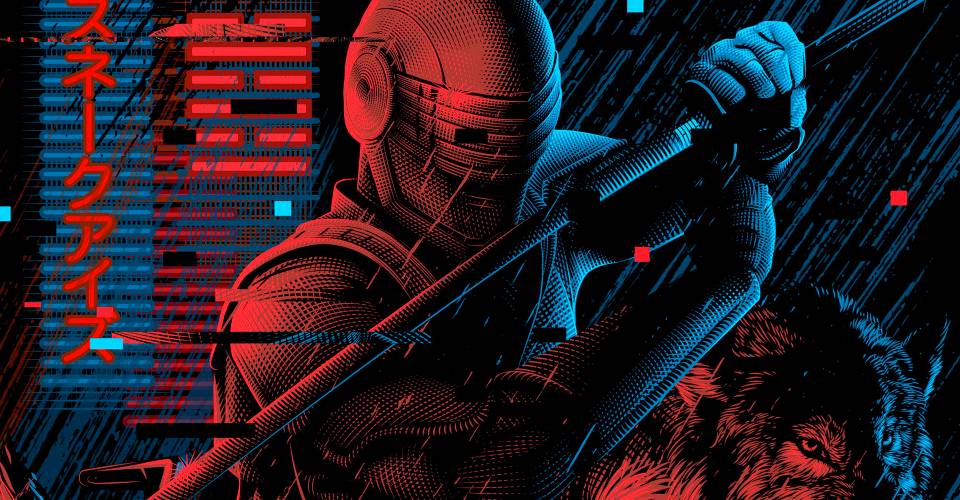 I'm gonna be honest here, I don't care for GI Joe, I don't know anyone who cares for GI Joe. To me this is a dead franchise (if it ever was alive). I'm gonna go even further, I remember watching those Gi Joe cartoons as a child, they sucked. No really, I mean these "soldiers" were competing for my attention with some crazy transforming robots, with two different dudes holding a sword, and a bit later with all kinds of Japanese craziness. So, let's be clear, I don't like Gi Joe cartoons and stuff, even the toys sucked in comparison with all the others. But… all that said, Snake eyes is a good movie, especially when has nothing to do with Gi Joe, truth is Gi Joe ruins the movie, tones it down, makes it dumber than it has to be and, in the process, kills the creative drive of the production team (this is so palpable through the third act of the movie). And the film has so many good things going on! It's almost unconceivable that they butchered this action-packed film by adding stupid stuff like giant snakes???? It almost t feels like two different stories nearing the midpoint, where the cobra logo is revealed (a logo that no terrorist organization with any self-proud would use).
Anyway, let's start from the top, shall we? So, what's the movie about? Okay, it's about this dude, Snake eyes, I mean the protagonist. He, as a child, gets to see his father being assassinated and makes a run for it in the middle of the forest at night (more on this a bit later) in the most awful first sequence I can remember in any film. Expository dialogue of the worst kind and cliché stuff all over the place. But I understand it's workings, because at minute 10 you already know what's all about (or you think you do). So, in ten minutes the movie sets a revenge path for Snake Eyes, the dude, and then moves some many years into the future without even explaining how the hell a little kid even makes it out alive in the middle of a forest, or how does he manage to stay alive with literally no more family and allies (cause the movie also tells us that the father erases the kid from records to protect him from ugh, Cobra). And I know I'm being a dick about it, I actually remember an interview of Tarantino when he talks about "There will be blood" by Paul Thomas Anderson, he says that he likes the first part of the movie, yet he doesn't understand how the protagonist survives alone in the desert after breaking his leg falling into a pit, kinda the same thing here. But anyway, the kid grows and now has become a regular cast from Mortal Kombat. He enjoys/works beating people to a pulp, which earns him the opportunity of being scouted by the bad guys. Yet being with the bad guys, Snake Eyes fails to kill a dude which becomes his ally and then a number of plot twists start happening (I'm not gonna talk about it because this is the best part of the movie by far).
So, the story literally dies by the mid-point, the part (as I already said) where the Gi Joe stuff gets forcibly thrown into the plot and instantly destroys everything. And it's so awful because we just come from an amazing action sequence between the three mayor characters of the movie and the villain's army, the villain himself even makes an appearance here. I have to talk about the amazing camera work in this part, the action is top notch. And not only on this particular sequence, but since the beginning (and ending where we discussed) all fights are raw and violent, almost too violent for a ugg… Gi Joe movie. There's Thai action vibe going on all over the place, some Tony Jaa mixed with John Woo style of direction, just really engaging and entertaining stuff. Which later on gets lost into the stablishing the franchise bullshit that ruins everything. I mean, the second half of the movie is so bad that it even adds a jewel that turns people to ashes instantly and the before mentioned giant fake snakes. Some betrayals here and there, more action sequences of the boring and no stakes kind and we get to the ending where the two main guys change roles, because everyone knows that Snake Eyes is the good one and Storm Shadow is the bad one, right? (actually who cares!)
There's only one thing I want to add before ending this review/rant, I heard somewhere that in the really great movies the plot points are hidden and are difficult to find or to spot when they're happening. In this case they're so obvious that a snob writer would say "this movie sucks" without hesitating. Yet for me this is not the case, I mean everyone knows the hero's journey, it works, okay? It's kinda childish? Yes, but it hits the right emotional spots every time and Snake Eyes does this really good, until some stupid logo gets thrown into the mix and it becomes Hiroshima all over again. So, should you watch this movie? Yes, but beware of the dumb stuff.