As I watched Jordan Peele's last movie, NOPE, many things came to mind. The strangeness of experimental grounds, the political aspects of it, the apparent plasticity of story structure becoming as rigid as we all know it tends to be, and many other things I can't even remember anymore. Yet, above all the ideas I was able to conjure, the one that stood out the most was the established relationship between dealing with dangerous animals and overcoming toxic parental relationships. And in this aspect, among many others, Nope has become the most amazing film I've seen all year, no question about it.
I've read some critics about the movie and many people say that it doesn't compare to previous Peele efforts in cinema, mainly Get Out (2017) and Us (2019), I disagree. I think those movies don't even compare to the scope, epicness, and power of the message this one has. Entering Nope's world you are deceived into believing you're watching an alien flick, which there aren't that many of them, but in reality, you're watching something completely different, you're watching at least two things; the rise of African-American action heroes and action myths, and a bold take into those old giant monster movies from the '70s. But the cleverness of the ideas stated goes beyond anything you've seen so far in action or monster movies.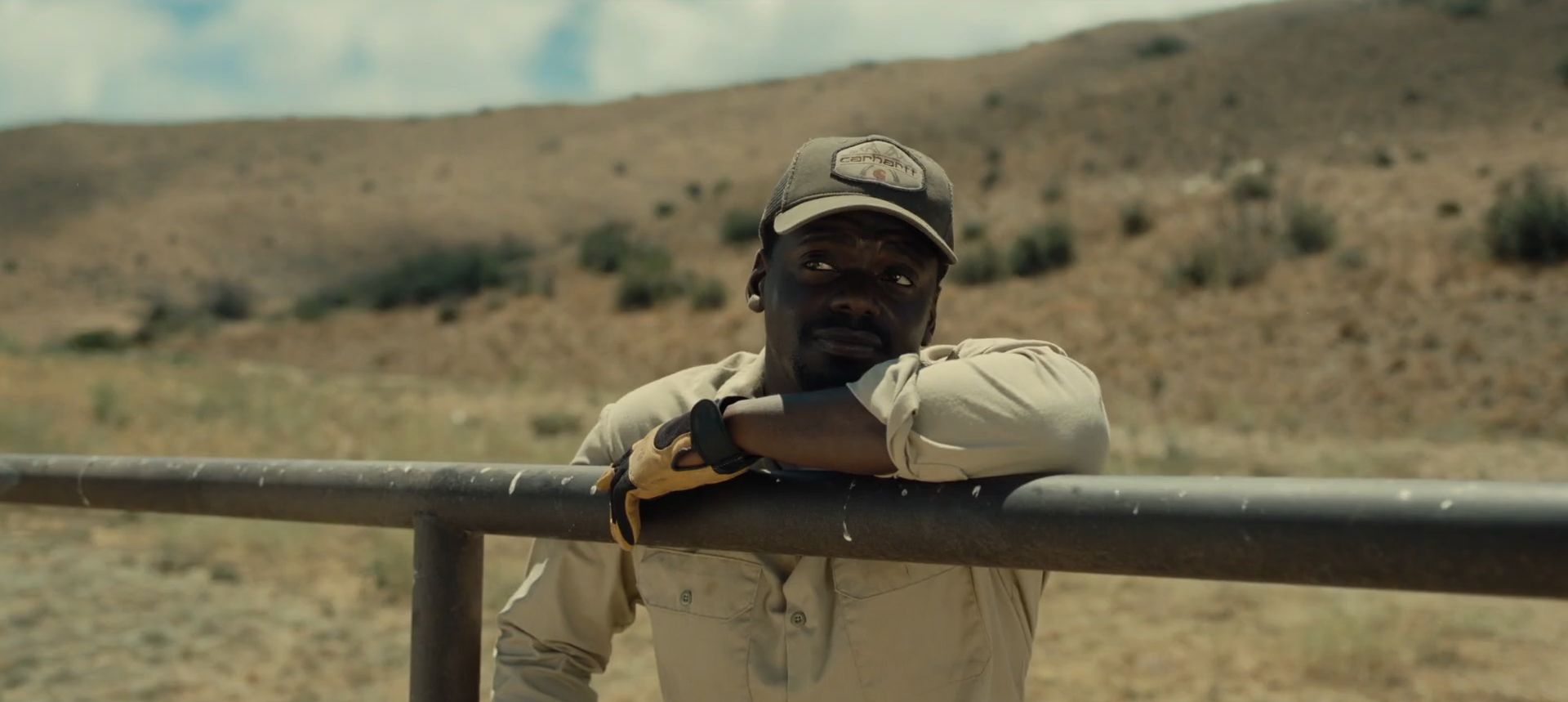 Nope is to monster movies as J.J. Abraham was for Star Trek and the sci-fi genre, it is a groundbreaking territory, it is a contained blockbuster, but blockbuster all along. It definitely has all the elements of it. It has amazing action sequences; it has a charming protagonist (how much can Daniel Kaluuya express without saying a word). It has an awesome soundtrack, and a supporting cast that is as diverse as interesting, distinct personalities fit into what is needed from this ensemble, all in support of each other, all in support of the general idea of the film.
Nope has become the most amazing film I've seen all year, no question about it.

M.Light
But what is the main idea of the film?
As I said before, it is about dealing with dangerous animals, either from the animal kingdom or above, a set of rules is laid out to deal with them, so cleverly that's even part of the protagonist's personality. His identity is partially rooted in dealing with dangerous animals and this reflects on why he was able to deal with a "hard to swallow" father. The crazy thing is that at the beginning of the movie we kinda dislike him because of his withdrawn attitude (as if forgetting his father has just died on his watch) because it seems that he's avoiding something. But, at the same time, we see him, again and again, facing danger on the face, not looking back, and entirely on his own. And we get to see what happens to others while facing dangerous animals because of the Gordy sequence (a must-watch), others who don't have what he has obviously.
I guess most people were expecting to watch an alien flick or a horror movie, but Nope is not that. Maybe that's the reason for the name. This is no alien movie, this is the rising of a new type of hero, not the ones you'll find in classic action flicks like Top Gun (in which the protagonist is overconfident and takes everything for himself), but something else, you're gonna find teamwork that enhances individual courage, you're gonna find cleverly exposed plot lines that don't even need over the top excuses because it is in the idea ground that Nope goes beyond and above, and I can safely say that there's no movie like this one. Haters prepare, because this is what happens when a creator gets complete freedom to explore, and I'm not surprised that general audiences are not prepared for it, they hardly ever are.